There is an article in the Wisconsin State Journal talking about the 1908 pictures of Madison captured by George Lawrence, a photographer who was famous for his pictures of San Fransico after the earthquake. Craig Wilson, a Madison based Kite Photographer went out last summer to capture a similar image of the Madison Isthmus to pay homage to Lawrence. Craig Wilson, whose aerial images can be seen through his flickr stream, is also the author of Hanging By A Thread, a Kite's View of Wisconsin. Standing on the deck of the Monona Terrace, here is the recreation of Lawrence's image from 100 years ago.



Current day Kite Aerial Photographer use lightweight rigs to capture images using servos or scripts running on the camera. In a single session, we can capture hundreds of shots and pick out the ones that we like, and discard the rest. Early pioneers in Kite Photography were using much heavier equipment, and George Lawrences camera weighed in at 48 pounds. How did he get it off the ground? He used a series of kites hung from the main line to give the entire rig tremendous lift.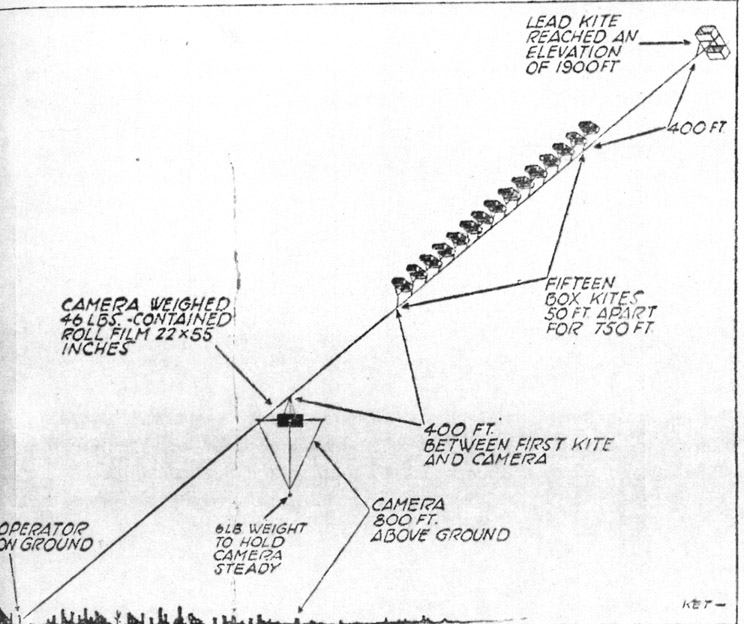 Here you can see the kites in a row up the kite line.



Here is the aerial shot of the Madison Istmus looking WNW towards one of the old Capitol buildings. I suppose that this was quite a spectacle 100 years ago for anyone wanting to see what their city looked like from the sky for the first time. Just being able to watch them fly the kite rig would have been a site to see.



I was in Madison this past weekend and got some images of the skyline from the opposite direction, looking ESE over the Isthmus. This picture is paying homage to Craig Wilson who created a tribute to the pioneer of Kite Aerial Photography, George Lawrence.




For more information on George Lawrence, please click here and here.